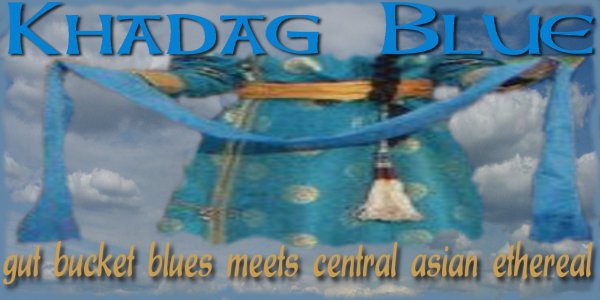 i've been thinking about using Khoomei voicings with old blues style songs for quite awhile. An opportunity fell into my lap when a friend had an opening act drop out on him at the last moment. So i quickly gathered a group of friends (thankfully all much more musically talented then i am), picked a few songs off some recordings i had, and threw together some fresh arrangements. we only had 3 rehearsals to get it all together, but the audience seemed to think it all fine.
Unfortunately, i only thought of recording it at the last moment and hastily put a mic out in the room going directly to a digital recording device with no one minding the levels. So the recording is over saturated most of the time making for some extremely lo-fi audio files. But, it's enough to get a feel for what we were going after.
The contributing musicians:

brian grover (me): Vocals, Chanzy-choldak (Tuvan Mandolin), Stomping
Mike Baznik: Electric Slide
Brach Siemens: other Guitars
Joby Morey: Upright Bass (the closest thing to Bass he had played previously was Cello)
Lia Nicine McCoo: additional Vocals, Percussion
---
---
When The Levee Breaks
Originally written by Kansas Joe McCoy and Memphis Minnie around 1929 and more famously covered by Led Zeppelin and more recently by Yat-Kha. We borrowed pretty heavily from those later arrangements.

---
Books of Moses
Written by Skip Spence in the late 60s while he was in the Bellevue Sanitorium recovering from drug induced schizophrenia.

---
Chocolate Jesus
a sadly accurate description of many peoples' approach to spirituality by Tom Waits which originally appeared on his Mule Variations release.

---
Kagyraa Moan
A rearrangement of a Paul Pena that i had covered previously.

---
Dead and Lovely
another Tom Waits song. This one appeared on Real Gone

---
I Know His Blood Can Make Me Whole
An old spiritual first recorded by Blind Willie Johnson in the late 1920s.

---
---
back to the Khoomei Hub