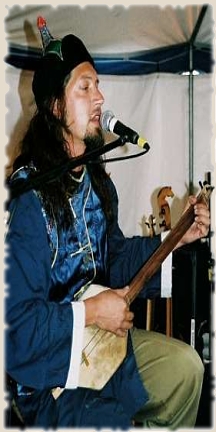 Tuva: The geographical center of Asia. Land of mountains, rivers and rolling steppes. Home to yaks, lambs, camels, horses, and hardy people. Birthplace of the amazing polyphonic singing technique of Khoomei (known simply as "throat singing" outside of Tuva). A technique where the singer, through precise acoustic filtering within the throat, can appear to be singing multiple tones simultaneously.
Steppeland Dreaming is the performance project of amateur ethnomusicologist brian grover in his ongoing journey of discovery of Khoomei and the songs, legend, folklore, and culture that surround it.
brian is one of the few proficient practicioners of traditional Khoomei in the USA and has immersed himself in Tuvan music since 1999 studying singing, instruments, folktales, and culture with khoomei master both in the United States and Tuva.
brian has given many performances and workshops including John Cage's Musicircus and repeat engagements at Cornerstone Festival in Illinois and Asian Moon Festival in Milwaukee, WI. He has worked as artist in residence at Columbia College in Chicago, IL and regularly teaches at the reknown Old Town School of Folk Music in Chicago, IL.